Administrator
Staff member
When we launched this website a few weeks ago, we made a logo. We love the signs in the National Parks that's why we made one of our own. The first sign we made is the current logo of our website. On this sign, the Half Dome as seen from Glacier Point in Yosemite.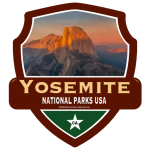 ©National Parks USA.com
Please always use a do-follow link to National Parks Forum:
https://www.national-parks-usa.com/forum/
to mention our forum!
Last edited: