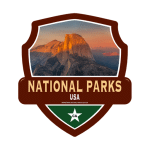 Welcome to our brand new website! Our website is all about the National Parks in the United States. Whether you live in the USA or abroad, many people dream of a trip through the USA and a visit to one of the many beautiful National Parks.
Are you one of those people who spends many hours searching the internet for the most beautiful places in the USA? Then you've come to the right place! Want more information about the beautiful view from Glacier Point in Yosemite National Park? Maybe you are looking for the most beautiful hikes in Bryce Canyon National Park or want to know more about the Everglades? Then take a look at our website.
We are currently starting this website because we are a real fan of the National Parks in the USA. Of course this does not happen overnight and this takes time.
Guido Damsteeg
National Parkfan since 1997
Disclaimer: Information on this website has been compiled with great care. National Parks USA .com  is not liable for damages and losses resulting from decisions based on the published information.