When you plan a tour through America, it is useful to know where all the national parks in America can be found.
After registration
you can download this file for free via the
Orange button
.
Are you planning a tour?
Check out the rest of this site
! Here you will find everything you need for a tour of America.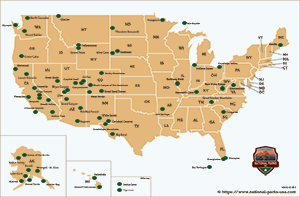 Size: 3000 × 1973
File size: 632 KB
Our maps may be used free of charge under the following conditions:
Maps used for publication (digital & paper) must be visibly provided with the text: ©National-Parks-USA.com
Maps used for digital publication must also be provided with a hyperlink to https://www.national-parks-usa.com. This link should not have a "no-follow" tag.
You are allowed to edit and modify maps, but you must meet the above conditions.
Translate this to your own language if you don't understand the terms!